Have an excellent experience as a helper at Sapporo, Hokkaido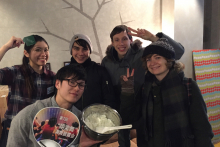 INTRO
≪Helper Staff (Cleaning & Reception) ≫
 
We need helpers who want to help us from March 2017.
This work is unpaid, but we offer free accommodation without meals in our mixed dormitory. You can also use our facilities ( Internet, kitchen, shower, etc…)
It is an excellent opportunity to live in Sapporo, and learn Japanese language and culture ;)
 
You can do anything as you like at off-hours, such as another part-time job[NOTE: You must have a working visa or working holiday visa to have paid job. We just provide you unpaid work]. ( around Ten to Ten there are some ski resorts. You can go skiing and snowboarding ⛄)
 
⚪︎Work / 3 days a week:
HR shiftwork: 10:00 ~15:00 (Cleaning),18:00~22:00(Reception)/ 3 days a week.
 
⚪︎Terms and conditions:
・ Those who can work for over a month
・ We prefer someone who can stay for longer period
・ Those who can communicate in both Japanese and English at daily-use level
・ A working holiday visa is required to have work exchange.
(*note: Originally we offer this exchange for those who are any nationalities, but we cannot apply anymore due to this incident that an exchanger of a hostel in Japan was arrested for working illegally.[http://www.japantimes.co.jp/news/2016/10/12/national/crime-legal/hokkaido-hostelier-hot-water-foreign-female-guests-busted-maids/#.WE4OL9WLTZ4] ) That is why we have changed the policy to offer)
・ Those who can enjoy interacting with people
  

⚪︎How to apply:
Please send a message to "reception (at) tentotentoten.com" or Facebook with your CV in details. You must write the following things:
 ① Name
 ② Address
 ③ Date of birth and gender
 ④ Phone number
 ⑤ Nationality
 ⑥ Skype account name(if you have)
 
Let's work together and make a lot of special memories :) :)
We are looking forward to hearing from you!

HOSTEL NAME
WHERE WE ARE LOCATED
5 Chome-288-5 Minami 8 Jōnishi, Chūō-ku, Sapporo-shi, Hokkaidō 064-0808, Japan
Job first posted: 03 August 2016
Updated: 27 January 2017
WORKER SKILLS WANTED
Hostel Cleaning / Housekeeping
Hostel Reception / Front Desk