Help out in a brand new hostel in Tallinn, Estonia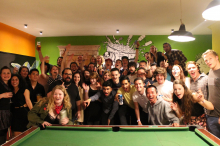 Hey guys!

Hope you have all had an amazing start to the year. If you are looking for a fun job that includes partying and all kinds of shenanigans, then look no further! Beer funnels during the day, parties in the evenings and everything else in between! We are looking for volunteers to join the team and stay for at least a month or as long as your liver is still functioning! If you know you are 100% awesome and outgoing then email us at themonksbunk@gmail.com!

Positions are available immediately!
HOSTEL NAME
HOSTEL LOCATION
Tatari 1, 10141 Tallinn, Estonia
Job first posted: 02 June 2017