Help out in a brand new hostel in Tallinn, Estonia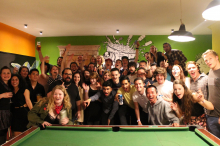 Hello fellow hostel workers!
Looking for a summer break, but maybe a change of pace from usual hostel work?
We have something different to offer for the creatives and initiative takers amongst you.

We have just opened a brand new hostel (currently under the Alur brand), and we need some help with the physical set up. We still need a hand with some building and renovation work if you have the capabilities. Otherwise it's all about decorating, and creating a decent atmosphere to turn this blank canvas into a hostel guests will remember.
We're looking for energy, enthusiasm and creativity. You will have freedom and flexibility to contribute to the actual creation of a new hostel.

Now for some practicalities:
accommodation will be provided, but be warned, our staff room is also a building project. You are welcome to contribute to it however you like, but do not expect more than the basics.
We are in the process of setting up a reception area, so reception and cleaning duties will be inevitable.
Volunteers work 24hrs a week in exchange for free accommodation and discount drinks in all our sister hostels. For full-time, salary TBD.
Tallinn is a great city, especially in summer when you can enjoy the white nights, outdoor culture, and cheap beers.
Please feel free to contact us with any questions, we look forward to hearing from you!!
Cheers!
HOSTEL NAME
OPPORTUNITIES AVAILABLE
Work Trade/Exchange
Volunteering
Paid Hostel Staff
HOSTEL LOCATION
Lai 20, 10133 Tallinn, Estonia
Job first posted: 02 June 2017