Manager needed for Party Hostel in Estonia (live-in, paid position)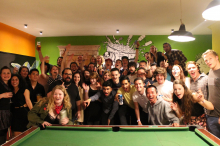 INTRO
We are looking for a new manager to run The Monk's Bunk in Tallinn, Estonia.

Partying, having fun and socializing with guests is what keeps us going. Ideally somebody who can start in the next weeks already.

We are looking for somebody with:
- organizing skills
- staff management skills
- high cleaning standards
- customer service/people-skills
- outgoing personality

As well as party orientated, while The Monk's Bunk is famous for it`s wild nights so you need to know how to handle going crazy and working hard at the same time.

One of our pub crawl nights:
https://vimeo.com/121544642

What we need you to do is:
- make sure the hostel is running smoothly
- work with and manage the bar
- manage the staff
- go above and beyond to make sure guests have a great time
- help organize parties and theme nights

Apart of the time of your life, we offer you free accommodation, a decent salary with bonuses based on performances, as well as staff priced drinks

If you are interested, please drop us a line with picture (info@themonksbunk.com) and tell us why we should choose you!

HOSTEL NAME
WHERE WE ARE LOCATED
Tatari 1, 10141 Tallinn, Estonia
Job first posted: 02 June 2017