Professional Chef for greek restaurant in Germany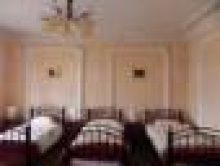 Hostel in Harz mountains in Germany search help. We are looking for somebody who could join our team asap and have expericence as an chef.
We search someone who could start in the high season in winter and stay long-term..
Your responsibilities would be: cooking in our greek restaurant with 80-100 seats.
We search experienced chef with experience to manage the kitchen.
German language not required.
Applicant must be:
- positive motivated
- hardworking
- goal orientated
- flexible
In return for your work ( 6 days /week) you will receive: FREE ACCOMMODATION FOOD and salary
Please send your application with the headline "chef for restaurant" to
[email protected]
HOSTEL NAME
HOSTEL LOCATION
Harzburger Str. 22A, 38700 Braunlage, Germany
Job first posted: 24 May 2014
Updated: 28 July 2017