Volunteer in Beach town Cadiz. Responsible fun and happy people required....ASAP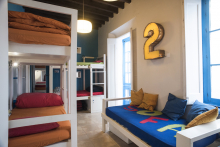 INTRO
Casa Caracol is the number 1 hostel in Cadiz and we are seeking two or three people to come and stay with us in exchange for 3 -4 hours of work per day.

The tasks include making pancakes for breakfast, helping with the laundry service for the bed linen and help with some of the cleaning.

The other shift is a two hour shift from 00.00 till 02.00 for the night birds among you! Helping with the final clean of the hostel and guiding the guests down from the terrace and kitchen to the open common area till this closes. Then being on hand and responsible during the night if they are needed. This does not entail staying up all night but just sleeping in the hostel and being on call if anything were to happen.

We also hope that you will want to take advantage of a long standing offer of cooking some of the nightly meals in the Caracol that make it such a fun place to stay...... You buy and prepare the meals and you take the profits!
Creative and fun people will fit in well!
HOSTEL NAME
WHERE WE ARE LOCATED
11006 Cádiz, Cádiz, Spain
Job first posted: 10 September 2017
Updated: 10 September 2017