volunteer in a cozy hostel during Christmas holidays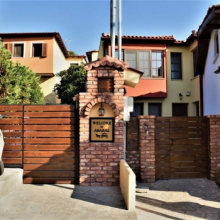 There is one spot left for a volunteer from 20th December till the 4th of January
in our hostel .
We are looking for someone to work and live with us in the hostel .
We are a small - medium sized hostel located in the Upper Town of Thessaloniki ,in north Greece .
Thessaloniki is the second largest city of Greece .

This position has a minimum commitment of 2 weeks
This is a multi -task position (as usual in the hostels) .
We need help with : cleaning rooms and bathrooms, tiding up the common areas, preparing breakfast ,bar assistance ,doing laundry and folding bed-linen.
The best part is of course is socializing and talking with our guests(giving maps,tips and directions).
We need some volunteer who can help us for 5 hrs a day
in exchange for accommodation !

We shall offer you a bed in our dorms,
Breakfast is included .
Free access to all hostel's facilities: fridge, kitchen to prepare your own meals, wi-fi,laundry
and special prices in our bar .

We are looking for a social and hardworking person with good communication skills .
Very good level of English is required .
Previous experience in hostels is a plus .


HOSTEL NAME
OPPORTUNITIES AVAILABLE
Work Trade/Exchange
Volunteering
HOSTEL LOCATION
Sachtouri 28, Thessaloniki 546 32, Greece
Job first posted: 11 December 2017
Updated: 11 December 2017
THIS HOSTEL IS LOOKING FOR TRAVELLERS WITH THE FOLLOWING SKILLS
Bartending
Computer Networking
Cooking
Email Communications
Event Planning / Hosting
Greeting / Helping Travelers (Concierge)
Hostel Cleaning / Housekeeping
Hostel Marketing
Hostel Reception / Front Desk
*This Hostel is willing to provide training