Work Exchange: Summer of 2023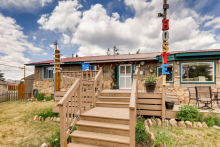 Our Hostel is located in Colorful Leadville Colorado. Leadville is the highest city in the USA right in the heart of Colorado's Rocky Mountains.
We are currently looking for a front desk agent.
We are looking for someone that can commit for at least a month.
Responsibilities Include:
- Greeting everyone with a smile, making sure they feel at home as soon as they walk through the door or call us on the phone
- Checking in guests
- Taking Reservations
- Answering phone calls and replying to emails
- Helping out with projects
The area we live in is exceptionally beautiful and loaded with world class biking, climbing, rafting, hiking, running and skiing.
Leadville is very busy during the summer/winter months and it is very easy to find a job within walking distance. This is great for candidates that need some supplemental income while they stay with us.
Email your resume to:
[email protected]
Thanks!
HOSTEL NAME
HOSTEL LOCATION
500 E 7th St, Leadville, CO 80461, USA
Job first posted: 27 April 2023
Updated: 27 April 2023