2 Staff Needed to Help Open and Run Small Hostel in Phoenix, Arizona, USA by June 1st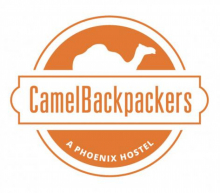 Where have you been? We've been looking for you!
We are CamelBackpackers Hostel. We are a small hostel with less than 20 beds opening this July. We are looking for two fun and energetic travelers to help us open and run the hostel. We would like to hire no later than June 1, 2012.
Is our hostel for you?
First allow us to introduce ourselves, we are Amber and Colin. We are a young, fun-loving couple who loves socializing, traveling, and new adventures. We have dreamed of opening a hostel and it's finally happening.
We pride ourselves in being a small hostel. We want to focus on the total guest experience rather than simply providing a bed. We feel that that staff can make or break a hostel. We love our jobs as hostel managers and it is important for us to ensure you love your job too. We want you to feel more like family than an employee.
What are the requirements?
-You need to be a US Citizen or have a US Work Permit
-We are hiring for long-term not just a few months
-Fluent English is a must
-Travel experience preferred
What will you do on an average day?
We are small hostel so you'll be helping with a little bit of everything. The primary focus will be to offer local knowledge and assistance to guests, to ensure their needs are met and their experience at CamelBackpackers Hostel is memorable and enjoyable.
Some normal duties will be:
-Answering questions, giving guests suggestions on what to do, hosting events
-Taking reservations, bookings, and selling goodies and bicycle rentals
-Laundering the bed linen and towels
-Setting up and tearing down breakfast and supper, maybe helping shop for groceries
-Helping to ensure the hostel stays clean throughout the day (Tidying up messes like left dishes or messy restrooms)
You will usually work five twelve-hour shifts per week. Don't worry; a majority of that time will be socializing with the guests.
So what will you get?
We value you too much to just have a work-exchange although we do have dorm-room space available. You will receive a small but fair salary plus extras like meals when we cook and free entry into events. We also want you to know Phoenix so we'll show you the ropes and our favorite things to do in this Southwest city and the area. Plus you'll get the valuable experience of helping to open and run a new hostel.
Where is Phoenix? Why will you love it?
Phoenix is located in Arizona. It borders California, Nevada, Utah, Colorado, New Mexico, and Mexico. It is in the Southwestern US in the Sonoran Desert. You'll love the weather. It does get extremely hot in the summer but the other nine months of the year make up for it. It is the sixth largest city in the US and a perfect hub for travelers. It has an international airport and is an easy day's drive to other major cities like Las Vegas, San Diego, Las Angeles, and only four-hour drive to Mexico or the Grand Canyon, one of the Wonders of the World. There are endless day trips to other cities, ghost towns, gold mines, ancient dwellings, and wine country.
Phoenix offers everything that other large cities offer such as more amazing local restaurants, bars, and entertainment options than we could ever physically visit. We are always finding our new favorite coffee shop, breakfast joint or happy hour spot. The list goes on and on. Phoenix is also home to seven local breweries, one of our favorite places to visit. We have several great museums, amusement parks, and even a safari park.
There are over a dozen mountains and park reserves with limitless trails to hike, bike or picnic. There's endless options for outdoor activities like sky diving, rappelling, tubing down the river, canoeing, horseback riding, boating, camping, fishing, and even snowboarding is just a two-hour drive away.
The city is vibrant and alive. The mindset in Phoenix is really changing to be more conscious and eco-friendly. It's about buying local and trying to make a difference. I think you get the point. We love Phoenix and we know you will too. I hope you get a chance to explore it and see for yourself the many things Phoenix has to offer.
What we need from you?
Still interested? Please email us your response to the questions below. We need to know about you. Write us a letter to help us understand who you are and what you are looking for in a hostel. We won't need your resume or CV but feel free to include it, a photo, or any other additional information about you. Please send the email to
[email protected]
.
First Name:
Last Name:
Email Address:
Phone Number:
Gender:
Citizenship:
Where are you now?:
How soon could you start?:
How long are you willing to work for us?:
Are you interested in dorm living?:
Do you have experience working in hostels?:
What special talents do you have?:
Why should we hire you over other candidates?:
We look forward to hearing from you,
Amber and Colin
We are a small, independent hostel in Phoenix, Arizona, USA.
HOSTEL NAME
OPPORTUNITIES AVAILABLE
Job first posted: 11 April 2012
Updated: 12 September 2017
THIS HOSTEL IS LOOKING FOR TRAVELLERS WITH THE FOLLOWING SKILLS
Hostel Reception / Front Desk
*This Hostel is willing to provide training