activity runner in a fun hostel needed ASAP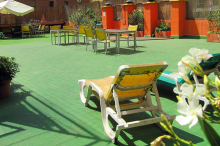 We are on the look for a new staff member.
Fancy coming to Barcelona, to enjoy the beautiful weather, the good party and the nice beaches? We run a 100 capacity bed hostel, where we have guest from all over the world, and we are looking for a new staff member to complete our international team :D
We are in need of someone outgoing and with a lot of energy and like to have fun :p to help us run our bar and our Brunch.
The job will consist in: running the brunch thursday to sunday, 10.30 till 13.00. you Will have to do some cooking (scrumble eggs, bacon... nothing to complex...)
You will also be running the bar, from wedenesday to sunday 19.00 till 23.30. Here again, we have beer on tap and you would have do so drinks but nothing to crazyy!!!
What we offer: accomodation in the staff room, with access to all the facilities (laundry, internet, breakfast...) salary of 250euros a month plus comission on what you sale!!.
If this is something you would like to do please send me an email at
[email protected]
Please only people that are looking for something for more than 2 month, and also with visa/work permit o EU citizens...
We are a group of hostels based in Barcelona, Sevilla & Valencia
HOSTEL NAME
OPPORTUNITIES AVAILABLE
HOSTEL LOCATION
Job first posted: 20 April 2016