Assistant Manager - Live-in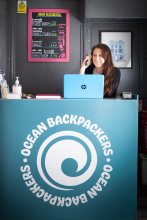 The Job advertisement

Assistant Hostel Manager. Live-in role.

Duties include:
Overseeing the successful day-to-day running of the hostel including cleaning and monitoring the cleaning undertaken under your guidance by the volunteers.

Checking and ensuring where possible that everything is in working order and reporting anything that isn't to the owner immediately. This aspect of the job will include some light maintenance tasks.

Responsibility for weekly rotas, stock-taking, security, fire safety, Health & Safety and first aid. Monitoring the float and undertaking weekly balance checks. You will need to be competent using the booking system and taking payments, and understand the importance of GDPR.

Helping the owner to develop, manage, and train volunteers, so that they too are able to deliver and maintain quality service to all guests.

Contributing to the hostel's marketing and social media platforms when required to, and collating marketing data when requested.

Responsibility for the hostel telephone while on duty and deputising in the absence of the owner/manger

Attending to the guests' needs and displaying a willingness to go above and beyond in order to ensure the best experience for guests. You will also need to deal sensibly with, and know how to de-escalate any customer complaints and refer to the owner/manager if unable to resolve issues.

Conduct regular team meetings in which you will instruct volunteers how to ensure guest safety and satisfaction and keep a check on volunteer wellbeing.


Education and Training Requirements:
Educated to 'A' level standard, the ideal candidate must have experience of working in a hospitality setting, preferably a hostel or hotel, and an understanding of the travel and tourism industry.

Must be proficient in Microsoft Office and have some experience of using a database or booking system. Preferably social media savvy.

Must have some experience of supervision, travel and staying in hostels.

Knowledge and Skills Requirements:
To be successful, candidates must have strong leadership and communications skills, be courteous and good problem solvers with a can-do attitude. They must be DBS checked or willing to be DBS checked at our expense, preferably a first aider, but willing to do a course at our expense, if not.

This is a physically demanding role and as such the ideal candidate must be clean and change beds in multiple rooms daily, as well as being able to climb and descend stairs numerous times a day, often carrying heavy loads.
The job would ideally suit a hospitality graduate looking for a first posting, or an outdoor sports enthusiast looking for a lifestyle change. Ilfracombe is a picturesque Harbour town nestled in an area of outstanding natural beauty, with Exmoor and the two of the best surf beaches in the UK, Woolecombe & Croyde very close by.


Working Conditions:
Live-in job with private double room.
40-45-hour week, March to November (possibility to remain Nov to Mar)
5 days a week, split shifts
Weekend work essential
No A/L during school holidays.

Please supply a recent C.V. and covering letter, detailing why you fit the criteria detailed in this advert and when you are available.



HOSTEL NAME
HOSTEL LOCATION
29 St James Pl, Ilfracombe EX34 9BJ, United Kingdom
Job first posted: 27 October 2022
Updated: 27 October 2022