Beach Hostel volunteer in Central of Israel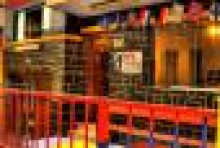 The Resort is located exactly 30 minutes from Tel Aviv and Haifa, has a good bus connection to both central cities. We are also located on one of the most beautiful beaches on the Mediterranean sea, next door to the Israeli Mecca for kite surfing, Beit Yanai.
Our neighbors: The Marine studies college students are fuel the active night life in the area which has an assortment of bars, discotheques, restaurants, beach parties and nature parties as well.
At the Resort, we also sponsor other social activities for our guests such as BBQ'S, poker tournaments, Movie nights ,Bonfires on the beach ,etc…
Volunteers will also get a chance to travel around Israel on days off, and perhaps participate in excursions within Israel as part of the hostel staff.

We look for:
•Friendly and love to help people
•Ages 20- 30
•Cultural tolerance and open-mindedness
•A minimum 4 week commitment
•High level of independence and flexibility
•Good level of English
•Motivation to work with tourists
•Full travel & medical insurance
•Driving license (can drive manual gears)

Job:
We will need your help taking care on the social events such as preparing BBQ nights, poker tournaments, movie nights, and bonfires on the beach, as well as help with reception and room preparation. Work is estimated to about 4 hours a day leaving plenty of free time.

We will have our first volunteers intake for season 2012 on the 18th of march (we have room for 2 volunteers at a time) , so if you read our requirements above and think that's perfectly you ,we would like to hear from you. Hi,im 29 run a cool beach hostel on the central part of Israel.


HOSTEL NAME
OPPORTUNITIES AVAILABLE
Job first posted: 05 February 2012