Belfast B&B Live in Superviser Reception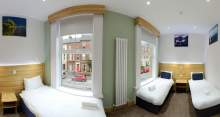 Belfast City Centre business requires 2 live in workers for a 40 hour week role to include reception duties and supervising of staff.
You will be paid for 20 hours per week with the other 20 covering your bed and board. A good standard of English language both written and spoken is a must. Experience in similar role is also essential. The job is an ongoing position but we would consider a minimum stay of three months .

HOSTEL NAME
OPPORTUNITIES AVAILABLE
Paid Hostel Staff
Hostel Manager
HOSTEL LOCATION
53-55 Malone Ave, Belfast BT9 6EP, UK
Job first posted: 15 February 2017
THIS HOSTEL IS LOOKING FOR TRAVELLERS WITH THE FOLLOWING SKILLS
Hostel Reception / Front Desk