Boutique hostel and restaurant in the heart of the Spanish Pyrenees looking for spanish speaking workers with a good attitude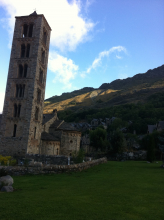 The work would be helping in our hostel with the breakfast, check-ins, cleaning of the rooms, gardening and also helping in our restaurant. Speaking spanish would be necessary.
If you would like to spend some time in a remote mountain village and enjoying hiking then this is a great place.
We are a hostel however, we work more with couples, families and groups of mountaineers. This is not your typical backpackers hostel all of our guests come to relax and go hiking in the mountains.
In the village there is not much of a party scene, we will have around 10 other workers from all parts of the world where you can make some good friends.
HOSTEL NAME
OPPORTUNITIES AVAILABLE
Work Trade/Exchange
Volunteering
Paid Hostel Staff
HOSTEL LOCATION
25528 Taüll, Lleida, Spain
Job first posted: 10 June 2019
Updated: 10 June 2019