Brand New Boutique Mountain Hostel Searching for Awesome Crew Members!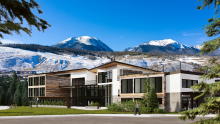 Our brand new 100-bed boutique hostel, bar, & event space are currently being built in beautiful Silverthorne, Colorado which is located in the heart of Colorado's Rocky Mountains and only an hour from Denver.

Responsibilities Include:

- Start-up assistance (building furniture, organizing inventory, general training)
- Front desk duties (making reservations, checking in/out guests, hostel tours, responding to guests via phone & email)
- General cleaning & housekeeping duties
- Assisting with events
- Guest relations
- Helping out with projects

The area we live in is exceptionally beautiful and surrounded by world class biking, climbing, rafting, hiking, running, skiing, and night life. We are currently looking to fill several positions at The Pad in time for our grand opening this June, 2021. We are looking for enthusiastic, like-minded individuals to help create an amazing community and work culture for both our staff and guests to enjoy.

Be on the ground floor floor of a new business and help shape our culture and vision. Just like any new business a lot will be expected of employees however as we continue to grow you can find or create a niche.
HOSTEL NAME
OPPORTUNITIES AVAILABLE
Work Trade/Exchange
Paid Hostel Staff
HOSTEL LOCATION
491 Rainbow Drive, Silverthorne CO 80498
Job first posted: 06 April 2021
Updated: 06 April 2021
THIS HOSTEL IS LOOKING FOR TRAVELLERS WITH THE FOLLOWING SKILLS
Administrative Assistance
Bartending
Email Communications
Event Planning / Hosting
Greeting / Helping Travelers (Concierge)
Hostel Cleaning / Housekeeping
Hostel Reception / Front Desk
*This Hostel is willing to provide training