Budapest Work-Exchange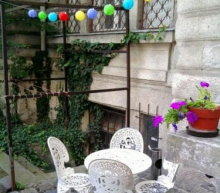 Hello there,
a newly opened 20 beds hostel in Budapest is looking for an enthusiastic and outgoing person for receptionist position
The position is NOT paid.
You live there for free, in exchange you are nice with the quests :)
This would be a good opportunity for someone who is planning to open a hostel himself/herself as well or for someone who has other incomes during the time (teaching languages, writing, etc.).
THIS IS NOT A PAID POSITION !

Work Exchange Program: free accommodation at the hostel in exchange of hours of work

Receptionist duties include:
check-ins, check-outs
daily housekeeping
"living with" the quests

Position is open from now. We prefer Travellers stying with us 2-2,5-3 monts long.

If you're interested in this position please email a short cover letter, CV and a recent photo to urbanlife.budapest@gmail.com

Photos you may find by typing Urban Life Budget Hostel into the search box of every major booking site.

Hope to hearing from you soon!

HOSTEL NAME
OPPORTUNITIES AVAILABLE
Job first posted: 14 February 2014