Casa Caracol Cadiz, the best little hostel in the south west of Spain is looking for a bright bubbly hard working and fun receptionist.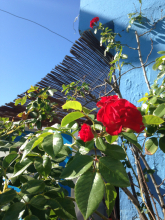 Casa Caracol is a really fun dynamic little hostel in the heart of the old town of Cadiz on the Atlantic coast in Spain. We are looking for the right receptionist to start immediately. It is a small team and as such the right candidate will have to fit in to group. Fluent Spanish and English essential. Another European language or two most helpful. You need to be hard working, flexible, imaginative, friendly with excellent people skills.
We need someone who will want to throw themselves into the mix and have the time of their lives.
Pleas visit our web site for an idea of the hostel. Wages 7€ per hour plus contract. So only European Citizens or people with valid E.U working permits need apply..... sorry to the rest of you but thems the rules!
HOSTEL NAME
HOSTEL LOCATION
11006 Cádiz, Cádiz, Spain
Job first posted: 03 June 2018
Updated: 03 June 2018