Chillout Hostel is looking for a volunteer!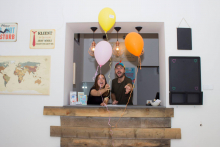 We are looking for a volunteer that will help us out with daily fun in the hostel . You will be operating the day to day tasks within the hostel and providing friendly service for the guests, this opportunity is great for people who want to meet new people get work experience or possibly a reference.
Volunteering at our hostel has a lot of perks and it can be very fun, whether it's helping with breakfast, our daily events and socialising with our guests. You will be fully trained with our experienced staff members within whatever key area of workplace you will be working at, they will teach and train you to maximize your potential in our workplace.
Our hostel is a very friendly and fun place to work at, from helping us with running of the hostel you will gain valuable experience and new skills, so if you are interested let us know now and join us!

HOSTEL NAME
HOSTEL LOCATION
Poznańska 7 street, 00-680 Warsaw, Poland
Job first posted: 13 May 2017
Updated: 13 May 2017
THIS HOSTEL IS LOOKING FOR TRAVELLERS WITH THE FOLLOWING SKILLS
Cooking
Event Planning / Hosting
Hostel Cleaning / Housekeeping
Hostel Reception / Front Desk
*This Hostel is willing to provide training