Come and be part of our team in Wild West Wales!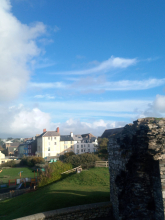 We need a reliable, enthusiastic and willing person or couple to exchange work for accommodation.

We're looking for a single or couple with great social, communication and organisation skills to be part of our hostel management team.

You'll be doing admin, customer service, bed making, laundry, cleaning and 'odd' jobs at our Toad Hall Hostel in Machynlleth and our Brynawel Hostel in Aberystwyth.

Working hours would be 11am-4pm (5 hrs per day) 5 days per week, (total 25 hrs per week) Tuesday to Saturday.

Why choose us;
In exchange for 25 hrs per week work we are able to offer you a comfortable double bedroom, utility bills and Wifi included in Brynawel, Aberystwyth for the duration of your stay.

This is a great opportunity for personal and creative development. Mid West Wales is one of the most beautiful places on earth. The local countryside offers some fantastic walking, climbing, cycling, mountain biking, kayaking, surfing, and paddle boarding opportunities. It is still relatively sparsely populated, and it has a unique language and culture. We boast a very liberal, relaxed, safe and friendly atmosphere. Also a vibrant alternative and artistic community. As a University town it also has the advantage of a relatively diverse population for a rural area. The best of both worlds!





HOSTEL NAME
HOSTEL LOCATION
66 Great Darkgate St, Aberystwyth SY23 1DW
Job first posted: 09 January 2023
Updated: 09 January 2023