Come volunteer with us and party with the best! Hiring for the winter/spring 2022 season.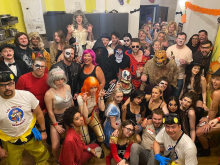 *Hiring for 2022 season*

The Madhouse is an independently owned and operated hostel located in Prague, Czech Republic. We opened in 2012 and has consistently been one of the city's top-rated hostels. We're a very social hostel offering a range of activities to our guests everyday.

The position available is a live-in volunteer position where your main priority will be ensuring that our guests have the best possible experience at our hostel. You'll mainly be responsible for leading daytime and/or nightly events as well as helping cook and serve hostel family dinners.

Apply only if you consider yourself a team-player and a social person that genuinely enjoys meeting new people.

You can expect free accommodation, free hostel family dinners, free beer, and free laundry. Monthly bonuses are available for longer-term placements.

HOSTEL NAME
HOSTEL LOCATION
Spálená 102/39, 110 00 Praha-Nové Město, Czechia
Job first posted: 07 November 2019
Updated: 07 November 2019
THIS HOSTEL IS LOOKING FOR TRAVELLERS WITH THE FOLLOWING SKILLS
Cooking
Event Planning / Hosting
Greeting / Helping Travelers (Concierge)
*This Hostel is willing to provide training