Come work on the Caribbean Island of Puerto Rico!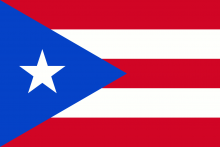 We are looking for a few energetic and fun work-exchanges to join our hostel at the beginning within the next couple of weeks. Please read through and if interested apply to the email address below.
About the hostel: We are a small and personal 26 bed hostel. Located just 15 minutes from the beach, Condado neighborhood and a small ride from Old San Juan. Founded 2 years ago, our hostel has become a top ranked hostel in San Juan. It has also been awarded 3rd Best Hostel in Latin America by HostelWorld, with additional recognition from Trip Adviser.
About the Position: Position will be voluntary, but benefits include free accommodation in private staff quarters. By being a volunteer in our hostel you'll work in rotation with other staff members, and spend your free time exploring the best that Puerto Rico has to offer. The hostel is in close proximity to Walmart, restaurants, World-renowned Muy Thai gym, Condado Beach, and bars. General duties may include some cleaning, guest entertaining, cooking, et cetera.
Benefits of working with us:
• Free room and board in exchange for 4-5 shifts per week.
• Location. We are located in the heart of a very local neighborhood in San Juan. You get to experience the real Puerto Rico here. Additionally, we are close to many things.
• Access to our amenities. We have 2 kitchens as well as additional amenities including laundry, WiFi, and cable TV, which are all FREE of use for you as an employee.
• Atmosphere. We are committed to providing a fun and safe environment for all people both guests and employees. We want everyone to have fun and leave Puerto Rico with great memories. You'll get to meet people from around the world without leaving one place.
• Improvement. We are committed to constantly getting better.
What will be expected of you: Although the position is voluntary, you'll be expected to maintain a degree of professionalism. We are looking for fun and outgoing people who know how to entertain guests, but can still show up for work and take care of business. We take pride in treating our guests with respect and giving them a memorable experience in Puerto Rico.
Ideal candidates will be outgoing and sociable, traveled, and speak some other languages, but everyone will be considered.
If you are interested please forward a Resume and/or CV to
[email protected]
No walk-ins please.
You can find us on Facebook at: https://www.facebook.com/thepalacehostel
You can visit our website at: http://www.thepalacehostel.com/Voted 3rd best hostel in Latin America in 2012! We are a top ranked hostel in San Juan Puerto Rico with over 400 reviews. We regularly welcome guests from around the world, over 75 countries and counting.
HOSTEL NAME
OPPORTUNITIES AVAILABLE
Job first posted: 24 February 2014