Domestic Engineering Worker (DEW) Crew!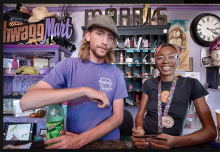 The Morris Burner Hostel is seeking awesome and motivated individuals who want to live and work art all the time! We are a unique art and boutique hostel inspired by the same 10 Principles (https://burningman.org/culture/philosophical-center/10-principles/) guiding the Burning Man event. Everyone starts with housekeeping, and from there, show us your mad skillz and let us get to know and trust you and there is potential for lobby/reception, and maybe other things! We are super open concept, we work hard and play hard. We currently have 46 beds, and are transitioning some from longer term to shorter term, with a goal of having close to 60 beds total.

We have three stories and no elevator, we call our built-in fitness program the Morris Stair Stepper program! There is art everywhere in our hostel, and our town is quickly becoming an art destination! We'd love people that would love to help with that in our hostel, we are always doing new things!

Work/Trade at our hostel is new, we hope folks will be patient with us and be willing to learn and we are willing to teach and learn. We required 3-4, 3-4 hour shifts per week. Housekeeping runs between 11am-3pm daily, and you will have two days off. Basic cleaning skills to include bathrooms, room flipping with an eye towards cleanliness and attention to detail to allow us to provide small perks that make us special. You will receive training in our procedures, our ideal stay is between 2-4 weeks.


HOSTEL NAME
HOSTEL LOCATION
400 E 4th St, Reno, NV 89512, USA
Job first posted: 05 August 2017
Updated: 05 August 2017