Encargado/Recepcionista/Limpieza se busca (Rosario, Argentina) // Recepcionist/Cleaner wanted (Rosario, Argentina)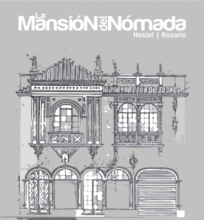 Buscamos persona responsable y carismática que quiera trabajar en Rosario (Santa Fe - Argentina)
Con experiencia previa en Hostels, y/o actividades de servicio y turismo.
Con conocimiento de idiomas.
Se ofrece alojamiento y pago adicional.

We are looking for a responsable and charismatic person willing to work at Rosario (Santa Fe - Argentina)
Previous expierence in Hosteles or turism activities.
Languages knowledges.
Accomodation and some extra payment is offered.La Mansión del Nómada es una casa de puertas abiertas, pensada por gente itinerante, donde vas a encontrar personas como vos, que gustan de viajar y conocer lugares nuevos.
Somos parte de aquellos que eligen conocer ciudades compartiendo vivencias con sus habitantes, construyendo historias juntos, recorriendo sus calles como locales.
Diseñamos este espacio pensando en todas las comodidades que tenemos en casa, a partir de ambientes y actividades que nos permitan transitar entre todos una estadía inolvidable.


HOSTEL NAME
OPPORTUNITIES AVAILABLE
Job first posted: 22 November 2011