Feel the Urbany Vibe - Join the Fam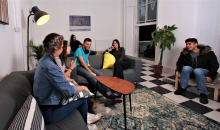 Our hostel is on the prowl for extraordinary humans who are lively, responsible, assertive and those who like to socialise. We pride ourselves on how friendly and helpful our staff is, it is mostly why we are currently a top rated hostel in London. We do anything we can to make our guests trip to London, simply the best.
In exchange for helping in the hostel we will provide you with free accommodation, laundry, WiFi and great vibes. London is a very expensive city to stay/live, so you'll be saving loads of $$££.
Our volunteers typically help out around 25 hours a week. You will be assisting our receptionists, with check ins/outs, housekeeping and overnight reception.
So if you are a housekeeping hero, a social butterfly and a fabulous team player, then we are excited to welcome you to our little family in this BIG city.
To apply, please send as interest email as well as your most recent travel photo to
[email protected]
LOOKING NOW FOR VOLUNTEERRS NOW : 2022!
Please Note requirements:
1 MONTH MINIMUM COMMITTMENT - We need to train you, so those who can stay up to 2 months will be highly considered.
A CONVERSATIONAL LEVEL OF ENGLISH IS REQUIRED - As we are in London, many of our guests are native English speakers. You will need to have the confidence with handling guest enquires.
CONTACT US: -- Be sure to contact us within 3 months of your intended arrival :)
HOSTEL NAME
OPPORTUNITIES AVAILABLE
Work Trade/Exchange
Volunteering
HOSTEL LOCATION
48-49 Prince's Square, Bayswater, London W2 4PX, UK
Job first posted: 01 November 2021
Updated: 01 November 2021