Fun Social Hostel looking for Animator in Split, Croatia!!!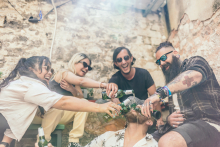 Split Hostel aim is to take our guests on a journey of handpicked, secret locations on the Croatian coast, attending the best party spots in town, with a comfy, safe space to rest your head at the end of the day ...or night. Split hostels doors have been open to like-minded, thrill-seeking travelers who want to make their time in Split, one to remember.

Where we stand out as the must stay hostel in town is that we offer FREE daily|nightly experiences from unique social events to beach days, group dinners and organized nights out. Our partner hostel down the road holds the only backpacker's bar in town, so you will be sure to see why we bring the good vibes!

The role is a animator position. This includes shifts hanging with guests, dinners, partying with them at our backpackers bar Charlie's & throwing weekly theme nights, whether it's a Full Moon party or Mexican fiesta! As well as checking guests in and out, giving them an overview of the Hostel, the surrounding areas & the events we have planned for that week and dealing with any questions or issues they might have.

We are looking for outgoing, entertaining & hard working people who will get around and socialise with all guests and be full of energy so that we can make Summer 2021 one to remember! The overall experience a guest has with us at the hostel is very much down to our staff so we need to make sure they bring the best vibes!

You animate 6 hours a day in the evenings, 5 days a week in return you'll get the following:

*Accommodation
*1000 kuna bar tab at Charlies
*Staff Prices at Charlies & B7 Restaurant

Check us out on Instagram @splithostel & @charliesbarsplit to get a sense of what your summer could be like!!!

Look forward to hearing from you!

HOSTEL NAME
HOSTEL LOCATION
Nelipica Ulica 1, 21000, Split, Croatia
Job first posted: 03 March 2021
Updated: 03 March 2021
THIS HOSTEL IS LOOKING FOR TRAVELLERS WITH THE FOLLOWING SKILLS
Email Communications
Event Planning / Hosting
Greeting / Helping Travelers (Concierge)
Hostel Cleaning / Housekeeping
Hostel Reception / Front Desk
Photography
Social Media Marketing
Tour Guide
*This Hostel is willing to provide training