Funky Fresh Receptionist Required!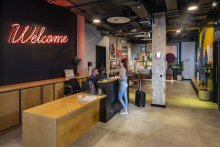 Job Title: Front Desk Agent positions available. And Night Porters!!

Status: Full-time, permanent. Does not include accommodation.

Job Description:

Large, centrally located hostel in Dublin 1 seeks an experienced, friendly front desk agent to fill a full time and permanent role. The successful candidate should be outgoing, patient, and have a natural talent for customer service.

The role will involve the following responsibilities:

• Creating, checking in, and adjusting reservations.
• Offering friendly, informative customer service.
• Answering phones, emails, messages from guests and working to ensure their needs are met.
• Selling tours.
• Answering questions about local attractions, events, etc.
• Cash handling.
• Communication with guests and other departments (maintenance, housekeeping)
• Responding to reviews.

The successful candidate will have the following skills and qualifications:

• Strong English skills, a secondary language is a plus.
• 2+ years in customer service.
• References.
• Excellent written and verbal communication skills.
• Familiarity with Mews and OTAs is a plus.
HOSTEL NAME
HOSTEL LOCATION
D1, 21 Talbot Pl, Mountjoy, Dublin 1, D01 W5P8, Ireland
Job first posted: 29 January 2020
Updated: 29 January 2020