Get PAID to live and work in Maui Hawaii!! Manager Position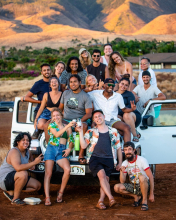 The Banana Bungalow Maui Hostel is looking for an Experienced Manager to come take over the operations of this hostel.

What to expect:
-First 2-3 months training (reception, housekeeping, all manager duties)
-Taking over assistant manager position - 16 hrs a week reception work trade for private room and 2 paid shifts $150 a shift PLUS health insurance (total 5 days a week working/2 days off)
-Once you are fully trained the manager position will be handed off to you. You will work 5 PAID days a week + private apartment + health insurance.

REQUIREMENTS:
-MUST be an American citizen or can legally work in the United States
-MUST have management experience & amazing customer service skills
-Organizational & multitasking skills
-Ability to solve problems under stress
-Valid drivers license
-Looking for someone to commit to a long term position
-College degree
-25 years or older
-QuickBooks knowledge is a PLUS but not required
-Maintenance knowledge is a PLUS but not required
-Cloudbeds knowledge is a PLUS but not required

Manager Duties:
-Responsible for managing 15 staff members (receptionists, housekeepers, maintenance, tour drivers)
-Guest relations/Customer service
-Keeping up with the property and company vehicle maintenance
-Payroll/QuickBooks/taxes/banking /paying bills/emails

Please submit a resume along with a cover letter on why you would be a good fit for this position.



HOSTEL NAME
OPPORTUNITIES AVAILABLE
Paid Hostel Staff
Hostel Manager
HOSTEL LOCATION
310 N Market St, Wailuku, HI 96793, USA
Job first posted: 14 January 2022
Updated: 14 January 2022