Get paid to party in Budapest!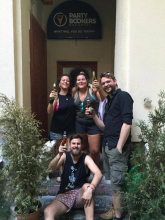 Hey! We are PartyBookers, the largest party and activity provider in Budapest, Hungary. We specialise in providing the best entertainment Budapest has to offer to all our Hostel partners.

We are looking to expand our promotions team with enthusiastic, energetic and FUN sales reps to ensure our hostels' guests make the most of their stay in this amazing city.

What we ask of you:
- Minimum age of 20
- EU citizen or ability to legally work in Hungary
-Ability to keep energised and enthusiastic to keep the party going!

What you can expect from us:
-FREE accommodation in Central Budapest
-FREE Breakfast
-FREE utilities
-FREE entry to all our events
-Weekly pay (base hourly rate + commissions on tickets sold)
-Discounts on other partnered events and bars
-Drink while you work (although if you get wasted, you will be docked pay!)

Send us your CV, 2-3 pictures of yourself and a short cover letter selling us on why you would be a great addition to our team!
HOSTEL LOCATION
Budapest, Oktogon 3, 1067 Hungary
Job first posted: 13 September 2016
Updated: 10 April 2017
THIS HOSTEL IS LOOKING FOR TRAVELLERS WITH THE FOLLOWING SKILLS
Bartending
Event Planning / Hosting
Greeting / Helping Travelers (Concierge)
Tour Guide
*This Hostel is willing to provide training