Globe Trott Inns in London is hiring!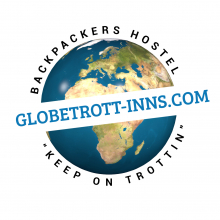 Globe Trott Inns is located in multi-cultural east London on the outskirts of the city centre
We are budget backpackers suitable for the laid back non fussy traveller.
A fun and social environment, we are perfect for solo travellers, happy couples and small groups.
We are currently recruiting for our reception and have numerous roles available. All roles require people who have a 'can do attitude'. People who want to have fun and enjoy meeting people
We presently have the following roles available
1 x Assistant Manager – Full time 40 Hours a week
Accommodation: No Live-in accommodation available for this role
- Supervise, troubleshoot and discipline reception and housekeeping.
- Troubleshoot reception and reservations issues
- Function as duty-manager when manager off-site
- Handle online reservations and information requests in a timely, professional and friendly manner
- Provide high level of customer service to guests and staff
- Supervise, train and follow up with new reception staff.
- Help receptionists balance till, correct reception mistakes, reverse payments and process refunds
- Social Media
- Miscellaneous duties as assigned by Manager
1 x Reception Supervisor - Full time 40 hours a week
Accommodation: Live-in accommodation (note: weekly fee of 16 hours hours).
- An experienced backpacker with a passion for hostels
- Process internet bookings/queries/no shows
- Problem solving skills and using initiative an absolute must
- Troubleshoot guest issues
- Very high standard in English
- Excellent customer service skills and happy personality
- Mature and responsible
- Can work with little supervision
- Look presentable
- Hard worker
- Social Media
- Miscellaneous duties as assigned by assistant manager
6 x Intern Receptionists - Part time 16 hours a week – Unpaid - Free breakfast - Staff food budget - Free use of all hostel facilities - Possible paid overtime
Accommodation: Free Live-in accommodation
- An experienced backpacker with a passion for hostels
- Reception duties as above
- Fun sociable people and getting our guests involved with hostel activities
- Updating our social media sites
- Miscellaneous duties as assigned by Reception Supervisor
- Hard worker!
Candidates must be in London or available to travel to London for interview.
IF YOU HAVE NEVER BACKPACKED OR ARE NOT INTERESTED IN TRAVEL PLEASE DO NOT APPLY!
If you're interested in these positions please email a cover letter and recent photo stating why we should choose you to join our team
[email protected]
Hostel lover, hostel manager and soon to be hostel owner.
HOSTEL NAME
OPPORTUNITIES AVAILABLE
Job first posted: 27 May 2014