Guesthouse & Hostel looking for Couple to Manage Operations in Niagara Falls, NY (A Wonder of the World)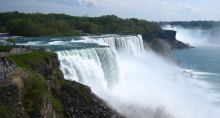 We are a small guesthouse and hostel, fully permitted and legal to operate in Niagara Falls, New York. We have been open for 12 years and are now looking for a couple to take over the day to day operations. We have high standards and have maintained 4 and 5 star reviews since opening in 2009.
We are looking for outgoing, hardworking, friendly, smiley, happy, funny, articulate, computer literate people! We want people who will ask a stranger how their day was, offer recommendations of fun things to do, see a need, and then fill that need with a hardworking attitude while simultaneously having fantastic energy when dealing with guests. We want to maintain our reputation as the friendly hostel where guests feel like they are at home and part of a family.
The day to day operations include: cleaning and preparing the house for guests; helping guests with questions and tourist activities; making pancakes in the morning; handling reservations through the booking platforms; guest communications prior to arrival; maintaining the yard and garden; purchasing supplies as needed; performing basic bookkeeping; basically ensuring the smooth running of daily operations. During the peak season, we will be available to help and provide you with some time off during the week.
To thrive in this role you need to have a passion for hostels and for people, be well organized, have great problem solving skills, be efficient, hardworking, and have great initiative. Previous hostel experience and some management experience would be preferred but not necessary for the right candidates.
Our typical season runs May through October. And in a normal year, we are very busy during that time. 2020 has not been a normal year. We are looking for a couple that wants to start in October and stay for a year or longer as this has long term potential. From October through May, the guesthouse work will be minimal so having another job is suggested. However, it is a great opportunity to start slow and work your way up to peak season, so as not to feel overwhelmed. Another requirement for the winter will be to take care of our cat, Esther (Dec.-April). Esther is not at the guesthouse from May-Nov. However, she has spent the last two winters in the guesthouse with helpers that have stayed through the winter.
In return for your work you will be given a private apartment on the third floor in our house which includes a bedroom, living room and half bath; full use of all our amenities; plus financial compensation (to be discussed).
If you are looking for an opportunity to learn the accommodation business, this is a great place to start as it is not too big. If you have been in the accommodation business and want to try something on your own that you have more control over, this is for you.
If you are available to start in October, are interested in taking on the experience running a guesthouse/hostel and could see yourself committing to at least a year, please apply! You must be able to work legally in the USA. We can not provide work visas. You can send your resume and a cover letter as to why this is perfect for you to
[email protected]
Please don't call as my phone rings off the hook as it is. If you look like a good match, we will contact you to set up a phone/video interview.
HOSTEL NAME
HOSTEL LOCATION
601 Spruce Ave, Niagara Falls, NY 14301, USA
Job first posted: 15 August 2020
Updated: 15 August 2020