Hostel And B&B Assistant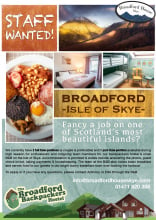 Fancy a job on one of Scotland's most beautiful islands?
We currently have 2 full-time positions (a couple is preferable) and 1 part-time position available during high season for enthusiastic and outgoing team members for our backpackers hostel & small B&B on the Isle of Skye.
Accommodation is provided & duties include answering the phone, guest check-in/out, taking payments & housekeeping. The team at the B&B also cooks basic breakfast and serves food to our guests in our bright sunny breakfast room overlooking the harbour.
To apply or if you have any questions, please contact Anthony or Ellis through the B&B.
[email protected]
Pre-settled or settled status is a must-have.
We see you soon!
HOSTEL NAME
HOSTEL LOCATION
High Rd, Isle of Skye IV49, UK
Job first posted: 21 April 2021
Updated: 21 April 2021