Hostel and Restaurant Work in the Spanish Pyreenes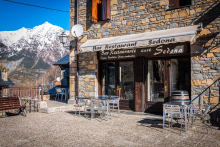 Hello,
We are currently looking for a assistant manager for our restaurant and hostel which is located directly above the restaurant. This position would require experience as waiter/waitress along with experience working in hotels/hostels. The position would be a full time and all year round.
Speaking spanish fluent is a must and Catalan would be very helpful.
My email address is
[email protected]
We are also looking for a few volunteer part-time positions throughout the entire year.
We offer in exchange for 25 hours of work per week your accommodation and all meals, we do pay hourly for any hours extra.
There are volunteer positions all year round so if you are interested in doing a ski season we are located only 6km from a ski resort.
Cheers,
Tony
HOSTEL NAME
OPPORTUNITIES AVAILABLE
Work Trade/Exchange
Volunteering
Paid Hostel Staff
Hostel Manager
HOSTEL LOCATION
25528 Taüll, Lleida, Spain
Job first posted: 22 July 2014