HOSTEL COOK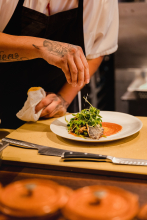 WE ARE HIRING!
We are looking for a happy cook lover, creative and hard working motivated person who is open minded, funny and energetic cook.
As a cook, you're expected to follow the recipes of the menu keeping a steady standard of quality. you will be in charge of preparing small but awesome dishes to our guests.
Former experience in a previous related position is an advantage but not relevant as willingness to learn and evolve.
You will mainly be busy with:
Delivering all the dishes on the menu with consistency both visually and taste wise.
Following health and hygiene codes
Controlling food stock
Communicating all your needs to your managers
Requirements
EU passport, NIE and seguridad social number
Basic level of english and spanish
Carnet de manipulador de alimentos
Ability to use food processors, grinders, slicers, mixers etc
Ability to work under pressure
Self-motivated
High energy level
Multi-tasking
Oral communication
Customer service
Adaptability
In exchange you will get
A fairly competitive wage plus bonus for performance.
Laid back while highly productive work environment.
Freedom to create and test own recipes
50% discount and network opportunities with over 35 hostels throughout europe and israel.
Special deals while staying at other oasis locations.
If your have an EU passport and documents to work in spain, please send us your cv to
[email protected]
with the subject HOSTEL COOK and tell us why you should be our next hostel cook.
HOSTEL NAME
HOSTEL LOCATION
Placeta del Correo Viejo, 3, 18010 Granada, Spain
Job first posted: 04 March 2020
Updated: 04 March 2020