Hostel Jobs in PRAGUE available NOW!!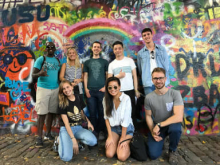 Hi everyone,
We, at Hostel One Prague, are looking for enthusiastic staff who like to socialise with guests, host pub crawls, group dinners and other activities for the following positions:
Daytime Receptionist (3-4 shifts per week)
Bartending
We require excellent use of English (a second language is a bonus), great communication skills, EU citizenship is a plus.
For us, the ideal applicant would be someone who is lively, responsible, outgoing and likes to socialise with guests on a daily basis. That's about it!
The position opens in early January, so we're looking for someone who can arrive by the last week of December at the latest. We require a minimum commitment of 4 months. Priority will be given to applicants who want to stay longer though.
To apply, please send your CV with a recent photo to: hostelonepragu
[email protected]
and specify your availability for video interview within the coming days and your potential availability for coming to work in Prague.
Accommodation is available alongside the position. Also, access to our free dinners, pub crawls and other events within the city.
HOSTEL NAME
HOSTEL LOCATION
Cimburkova 916/8, Žižkov, 130 00 Praha-Praha 3, Czechia
Job first posted: 16 November 2017
Updated: 16 November 2017