Hostel Manager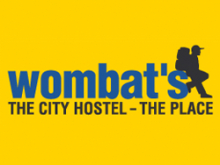 Wombat's City Hostel BERLIN sucht einen verantwortungsbewussten, kreativen und individuellen Hostelmanager (m/w):
"Come and get the spirit!"
DU:
• Als Hostelmanager bist du für die Organisation aller Abläufe im Hostel verantwortlich
• Deine Aufgaben beinhalten auch die Mitarbeiterführung und Mitarbeitermotivation.
• Durch deiner Fähigkeit ein Team zu führen wird die Zufriedenheit unserer Gäste sichergestellt.
• Du kümmerst dich um Kostenmanagement, Reporting , Buchhaltung und operatives Geschäft
Wir wollen:
• Hostelerfahrung
• Erfahrung mit Führung von kleinen Teams inklusive Personalentwicklung
• Kenntnisse in Buchhaltung
• Deutsch und Englisch in Wort und Schrift
• Teamplayer und Flexibilität
Wir bieten:
- Die Möglichkeit in einem jungen, internationalen Team zu arbeiten
- Die Möglichkeit deiner Kreativität und deine Führungskompetenzen bei unser Team zu entwickeln
- Die Möglichkeit so zu sein wie du bist!
Wenn du Interesse hast, dann schick uns bitte bis 05.09.2016 deine Bewerbung inklusive ein Lebenslauf, einen Motivationsbrief und ein Bild an Malole Rodríguez Cabrera:
[email protected]
HOSTEL NAME
HOSTEL LOCATION
Alte Schönhauser Str. 2, 10119 Berlin, Germany
Job first posted: 25 August 2016