Hostel Manager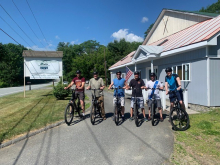 Hanover Adventure Tours is a tour operations business located next to the Connecticut River that provides electric bicycle tours, rentals / sales, bus and hiking tours, which resides alongside our hostel, (side by side operations that support one another). Hanover Adventure Tours Hostel is a medium sized hostel in Norwich, Vermont that provides lodging in a communal environment for Appalachian Trail hikers and visiting guests.


There is a position available in our hostel starting immediately that would include stay (live in).

Hostel Manager is a multi - task position
The main duties are : welcoming guests, cleaning rooms, tidying up the common areas, setting up continental (self serve) breakfast ,doing laundry and organizing bed-linen. Tracking inventory and using the CRM for guests info. Assist with services providing outdoor recreational activities (giving tips, maps, directions).

Other positions available as we prepare for the season and are ready to hire staff. These would be multi-task positions as we're a start up with a unique advantage to learn the business and various tasks.
- Housekeeping
- Hostel Staff
- Sales Associate
- Mechanic
- Tour guide
- Hostel Manager


We are looking for a social and hardworking person with good communication skills .



HOSTEL NAME
OPPORTUNITIES AVAILABLE
Work Trade/Exchange
Paid Hostel Staff
Hostel Manager
HOSTEL LOCATION
713 US-5, Norwich, VT 05055, USA
Job first posted: 27 June 2020
Updated: 27 June 2020