Hostel Manager Bolivia 120 bed, Restro Bar & Night Club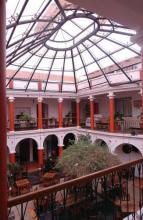 You should be able and willing to take care of almost everything involved in operating the hostel, without direction or supervision.

You should have a sense of ownership and responsibility in the business

You should have a hands-on, "I'm not above plunging a nasty toilet" attitude to jump in where needed!

Fluent in English and Spanish

Team Player and people skills

Your initial focus should be:

Entertainment, Atmosphere, Activities
Staff Training and Management
Sales and Marketing esp. in Social Media y booking.com etc
Reception and Customer Service

Finally you can be also responsible for:

Public Relations and Industry Relations
Housekeeping & Maintenance
Quality Control
Business Development and Strategy
IT/ Web Development

You will join a team of around 35 coworkers.


HOSTEL NAME
HOSTEL LOCATION
Sucre, Bolivia
Job first posted: 08 February 2019
Updated: 08 February 2019