Hostel Manager Position x2, Mirissa Beach & Colombo Airport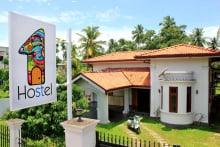 Hello!
Our expanding network of hostels built by people with a passion for traveling, offering everyone a chance to explore the most popular destinations in Sri Lanka comfortably and at an affordable price. Hostel First Colombo Airport has 5 rooms and it is very busy as it is near the international airport. Negombo Beach is in 20 mins bus ride. Hostel First Mirissa is located in south of island in 2 mins from famous beach!
We are looking for Hostel Managers for both of our hostels, to start immediately.
The position for our Mirissa Beach Hostel is for 6 months and is available from 15 May 2018
The position for our Airport Hostel is for 3 - 6 months
Hostel Manager duties include, but not limited to:
- Taking care of online bookings, check-in & check-out, emails and phone calls;
- Receiving payments, keeping cash accounting, returning deposits, reporting to owner;
- Paying running costs and managing the staff to ensure customer satisfaction;
- Selling and organizing tours & transportation, and marketing other Hostel First hostels;
- Preparing daily / weekly & monthly reports;
- Consistent updating of all social media accounts;
- Organising & promoting regular hostel events
Working Conditions:
You will get bed and breakfast plus a meal allowance.
First 2 weeks is unpaid training period. ( if you have experience in hostel management - 1 week)
Salary is 45,000 RS per month + bonus
4 days off per month
The specified hours of work are 7.30 am - 7.30pm although this may differ depending on daily requirements
There is a bonus based on the reviews and tour selling.
Friendly team and a chance to explore Sri Lanka!
Further inquiries and applications (including a CV):
[email protected]
What we are looking for:
Experienced hostel managers, with a good command of English and a passion for travel & meeting new people, who can take the lead immediately upon commencing employment with us and are familiar with Extranet and Channel Manager.
Manju & Hostel First team
http://www.hostelfirst.com
HOSTEL NAME
OPPORTUNITIES AVAILABLE
Paid Hostel Staff
Hostel Manager
HOSTEL LOCATION
Beachside Rd, Weligama, Sri Lanka
Job first posted: 06 June 2016
Updated: 18 December 2017
THIS HOSTEL IS LOOKING FOR TRAVELLERS WITH THE FOLLOWING SKILLS
Administrative Assistance
Bartending
Computer Illustration
Computer Networking
Cooking
Email Communications
Event Planning / Hosting
Greeting / Helping Travelers (Concierge)
Hostel Cleaning / Housekeeping
Hostel Management
Hostel Marketing
Hostel Reception / Front Desk
Photography
Social Media Marketing
Tour Guide
Video / YouTube Production
Web Blogging & Writing
Web SEO
*This Hostel is willing to provide training