HOSTEL IN RAMALLAH the first hostel in the city is looking for volunteers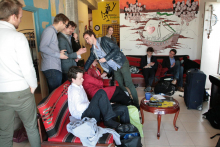 another way to discover and enjoy a country is by helping starting projects get in touch with the locals and learn about cultures and ways of living.

learn another language or improve and know some key words learn about food how to cook great local dishes, we are here at HOSTEL IN RAMALLAH a family oriented hostel 100% palestinian is giving the chance for travelers to volunteer and help with hostel work in exchange of accomodation food and fun if you are interested please contact us www.hostelinramallah.com +97222963555 at arafat square al-nuzha street 12(al-maktaba)hostel in ramallah is the first hostel opened in city center ramallah palestine giving the traveler a new option that did not exist before as a budget place for travelers and a volunteer house for those who would like to stay longer and discover palestine know more about the country and the history of the long fight with israel and palestine. we at the hostel is more like a family everyone interacts together cook together have fun study arabic and learn about the situation here. if you like to join us please feel free as you will be helping other travelers to keep hostel in ramallah the cheapest affordable option.


HOSTEL NAME
OPPORTUNITIES AVAILABLE
Job first posted: 25 August 2014