Hostel reception work, Barcelona; Spain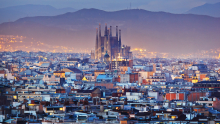 Hi all,
We are looking for staff to join our reception team in Barcelona. Applicant should speak English conversational level and a beginner's level of Spanish.
Position requires legal working status in Spain.
Basic duties involve:
- Receptionist
- Elements of cleaning
The ideal applicant would be someone who is responsible, outgoing and likes to socialise.
We require a minimum of 3-4 months commitment. Priority will be given to applicants are available to stay for longer periods.
Compensation is a salary plus accommodation.
To apply, please send your CV with a recent photo and language skills to
[email protected]
Positions are available with a prompt start.
HOSTEL NAME
HOSTEL LOCATION
Carrer del Consell de Cent, 355, 08007 Barcelona, Spain
Job first posted: 08 July 2018
Updated: 08 July 2018