House-keeping for Boutique Hostel in Tuscany - Work exchange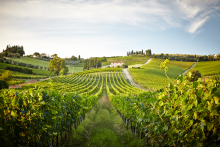 Hello!
I opened my beautiful boutique hostel amongst the vineyards of Chianti region, in Tuscany, decorated it with artisanal and vintage furniture and the trophies of my travels, I love to welcome amazing international guests and show them the secret side of Tuscany. What we offer here is the laid-back and comunitarian atmosphere of a hostel with the cool decoration and attitude of a boutique hotel.
We request 5 hours a day per 5 days a week of morning work, mostly housekeeping (preparing and clearing breakfast and/or cleaning guests bedrooms and communal areas) in exchange of a shared double bedroom with private bathroom, use of communal kitchen, all food supplies, wifi in communal areas, laundry facility, lifts to the village at agreed time.
We also have a shady hammocks relaxation area and a tiny frigidarium pool.
we have breakfast together with BB breakfast supplies.
We have lunch all together with the great opportunity for all to exchange culture and opinion about the respective countries.
You cook your dinner on your own in the communal kitchen, while i send some family time in my apartment with my relatives.

HOSTEL NAME
OPPORTUNITIES AVAILABLE
Work Trade/Exchange
Volunteering
Job first posted: 09 August 2018
Updated: 09 August 2018