House of Mark - Students wanted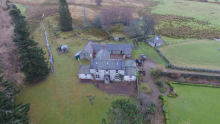 The House of Mark is a guest house in Glenesk, Angus, Scotland.
We require students, who can stay for three weeks or more, we provide free accommodation and food and a share of the income from our cafe. Whilst here students work for around four hours a day; the rest of the time can be spent discovering the beautiful area within the Cairngorms National Park or venture out seeing more of Scotland.
This is a great opportunity to gain work experience in the hospitality field; one that is much loved by students, some of whom return year on year. It also allows you to meet and spend your time with students from across the world, gaining you many unforgettable memories and ties around the globe – something which many have found useful when travelling in later years.
If you are active and willing to work while you travel, please send your CV together with your Skype address and full mobile number to
[email protected]
we will email straight back.
Student can apply individually or in groups.
Visit the website for more information about the guesthouse: www.houseofmark.co.uk
houseofmark.co.uk
HOSTEL NAME
OPPORTUNITIES AVAILABLE
Job first posted: 29 May 2015