Jack of all trades wanted for work exchange in a small hostel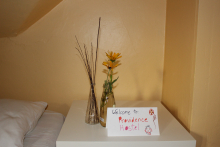 We are 3 friends in our mid-30s who met backpacking. We each traveled extensively in off-the-beat spots in Latin America, Asia and Europe, staying in countless hostels and couch surfing. From our love of hostels and backpacking we decided to pool our resources to create a small hostel. We only recently opened (June 2016) and we're still improving and upgrading. Therefore this is an opportunity to join us at the early phase, and co-create with us a project that is unfolding and growing. We tried to adopt what we most liked from from the hostels we stayed in (for example, all our dorms currently have 4 people max per room), though we admit we're still learning and improving. We host volunteers, travelers, "J1 work and travel" international students, local students, backpackers and gap year travelers.

ABOUT PROVIDENCE: Voted top 3 in "America's Favorite Cities" poll in "Travel and Leisure" magazine. Providence is a vibrant city, with a great food culture, many museums, and home to several top universities. Our hostel is 15 minutes walk to downtown, and walking distance to Providence's most famous universities: Brown University, Rhode Island School of Design, and Johnson and Wales Culinary Institute. We're 20 minutes on foot from the rail line to Boston (1 hour direct to Boston, $11.50 one way) and 3 hours by bus to New York City. Buses connect Providence to most other major cities.

Free accommodation in a 4 person dorm room in exchange for typical hostel duties. You will wear many hats and be involved in all the daily duties of running a hostel (from the glamorous to the not-so-glamorous), including checking guests in, social interaction with guests, cleaning bathrooms and dorm rooms, emptying trash bins, laundry and daily maintenance (including the opportunity to create your own side-project based on special interests you have, if you so desire).

If you're an artsy creative type, we invite you to improve the hostel aesthetics and help make the place feel more cozy (design, drawings, little artistic touches etc). When the situation requires it, we may need a hand in some house improvement projects (such as painting some walls and light renovation work), some social media upkeep (answering emails, facebook) and brainstorming how we can improve the hostel and attract more guests.

Volunteer position is for 1-2 months.
HOSTEL NAME
OPPORTUNITIES AVAILABLE
Work Trade/Exchange
Volunteering
HOSTEL LOCATION
62 Nolan St, Providence, RI 02908, USA
Job first posted: 09 September 2016
THIS HOSTEL IS LOOKING FOR TRAVELLERS WITH THE FOLLOWING SKILLS
Administrative Assistance
Building Maintenance & Repairs
Email Communications
Hostel Cleaning / Housekeeping
Hostel Marketing
Hostel Reception / Front Desk
Tour Guide
Video / YouTube Production
Web SEO
Website Design
*This Hostel is willing to provide training