Join our Hostel Crew! Outdoor adventures, beer, and cultural exchange in downtown Bend, Oregon, US!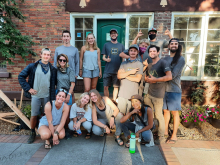 Hello!

If interested in visiting Bend, Oregon, your experience starts with us. The New York Times rates Bend as a top global destination for "great outdoors" and "craft brewing". Outdoor activities include hiking and climbing at Smith Rock and biking and skiing at Mt. Bachelor, among others. You'll also have a chance to tour dozens of micro-breweries.

Our program will allow you to meet people across the globe and learn more about the hospitality industry! You will also be asked to learn about our city and share your knowledge with guests. Because alcohol is served on-site, candidates must be age 21+.

We currently have two positions available at the hostel. One is more back of house operations with little guest interaction to front of house with high staff and guest interaction. Candidates should be 21+ because we serve alcohol on site. When you reach out PLEASE TELL US WHAT POSITION YOU ARE INTERESTED IN.

1. Front Desk
These staff should enjoy a position that involves customer service/interaction, leadership, attention to detail, and social environments. Our front desk staff help with housekeeping as well as managing the front desk. You can expect to prepare bedrooms, strip and make beds, clean and store linens and towels, and clean bedrooms, bathrooms, and communal spaces. You will also work with cloud-based technologies to learn property management. Your responsibilities will include: create and cancel reservations, process payments and refunds, check guests in and out, respond to e-mails, take phone calls, answer guest questions, and resolve guest concerns. We typically look for workawayers who would like to stay 4-5 months with four shifts a week. This position includes payment.

2. Housekeeping/Firewatch
We are looking for workawayers who are hard working, thorough, and have attention to detail. This position includes both day and night shifts. Your daytime duties will include housekeeping and cleaning the hostel. You can expect to strip and make beds, sanitize rooms, clean showers, restrooms, and common areas. Night time duties require 30 minute rounds of checking the hostel for fire/smoke, enforcing quiet hours (10pm-8am), light security (making sure guests are safe and respecting the house, no one sleeping in common areas, etc.), and light cleaning (keeping common areas tidy). Overnight shifts are from 10pm - 3am and 3am - 8am. We are looking for workawayers who would like to stay at least 2-3 months for this position with four shifts a week. This position is part of our work trade program.



HOSTEL NAME
OPPORTUNITIES AVAILABLE
Work Trade/Exchange
Paid Hostel Staff
HOSTEL LOCATION
42 NW Hawthorne Ave, Bend, OR 97701, USA
Job first posted: 20 August 2020
Updated: 20 August 2020