Join our Hostel Crew! Outdoor adventures, beer, and cultural exchange in downtown Bend, Oregon, US!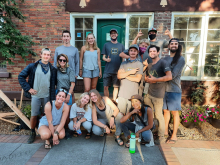 Hello!

If you're interested in visiting Bend, Oregon, then your experience starts with us. The New York Times rates Bend as a top global destination for "great outdoors" and "craft brewing". Outdoor activities include hiking and climbing at Smith Rock and biking and skiing at Mt. Bachelor, among others. You'll also have a chance to tour dozens of micro-breweries.

Our program will allow you to meet people across the globe and learn more about the hospitality industry! You will also be asked to learn about our city and share your knowledge with guests. Because alcohol is served on-site, candidates must be age 21+.

We currently have three different types of work trade positions available. They range from back of house operations with little guest interaction to front of house management level position with high staff and guest interaction.

1. Assistant Manager
We are looking for an assistant manager who wants to be fully immersed and involved with front desk operations and decision making. This position will require someone who can oversee staff, oversee front desk operations, help with training, learn our online booking software Cloudbeds, manage reservations, resolve guest concerns, and work on special projects. You will be expected to work 30 hours a week. This position is the only position that involves payment. If you live onsite with us we will take a hybrid approach with 15 paid hours (minimum wage) and 15 work exchange hours. If you live locally offsite we can discuss payment. There is also opportunity for commission.

2. Front Desk
These staff should enjoy a position that involves customer service/interaction, attention to detail, and social environments. Our front desk staff help with housekeeping as well as managing the front desk. You can expect to prepare bedrooms, strip and make beds, clean and store linens and towels, and clean bedrooms, bathrooms, and communal spaces. You will also work with cloud-based technologies to learn property management. Your responsibilities will include: create and cancel reservations, process payments and refunds, check guests in and out, respond to e-mails, take phone calls, answer guest questions, and resolve guest concerns. This is a work trade position. We ask for three shifts a week in exchange for free accommodation and food/beverage deals.

3. Fire watch
We are looking for night owls! We need someone who can commit to overnights shifts that are 4 hour chunks from either 12am-4am or 4am-8am. What we ask is 5 of these shifts a week in exchange for free accommodation and food/beverage deals. The shifts are little guest interaction and require 30 minute rounds of checking the house for fire/smoke, enforcing our quiet hours of 10pm-8am, and light security (making sure guests are safe and respecting the house, no one sleeping in common areas, etc.).



HOSTEL NAME
OPPORTUNITIES AVAILABLE
Work Trade/Exchange
Paid Hostel Staff
Hostel Manager
HOSTEL LOCATION
42 NW Hawthorne Ave, Bend, OR 97701, USA
Job first posted: 20 August 2020
Updated: 20 August 2020