Join our Oxford team as an International Volunteer!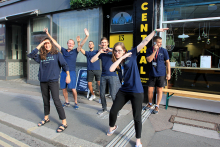 Are you ready for an incredible adventure while making a positive impact? Look no further! Our vibrant backpackers hostel in the heart of Oxford is seeking enthusiastic international volunteers to join our team for an unforgettable experience.


About Us:
Located in the centre of Oxford, our hostel has been a hub of cultural exchange and memorable encounters for 18 years. We are dedicated to creating a welcoming and inclusive environment for travelers from all walks of life. Join us in building a sense of community and providing exceptional hospitality to our guests! 

As a volunteer, you'll play a crucial role in creating a welcoming and comfortable environment for travelers from all around the world. Are you ready to showcase your customer service skills and ensure that our guests have an unforgettable stay?


Volunteer Requirements:

Commitment: A 3-month stay is required, with the possibility to extend, ensuring you have time to immerse yourself in the vibrant atmosphere of Oxford and build meaningful connections.
Customer Service: A passion for customer service is essential. We value our guests and aim to create a friendly, warm, and helpful atmosphere that exceeds their expectations.
Hygiene Standards: A strong emphasis on cleanliness and hygiene is fundamental to maintain a comfortable and safe environment for everyone. Your commitment to maintaining high standards will be greatly appreciated.
Willingness to Learn: We encourage a growth mindset and provide opportunities for you to learn new skills during your stay. From reception duties to event organization, there's always room for personal and professional development.

What You'll Do:

You will be provided with two full weeks of training to ensure you acquire the necessary skills and knowledge to excel. We believe in delivering the best experience to our guests, and this training will provide you with the necessary skills.

As a volunteer at our backpackers hostel, you'll have a structured schedule that ensures a healthy work-life balance. Volunteers work a total of 24 hours per week, divided by shifts of four or eight hours. We understand that everyone has different preferences and energy levels, so we offer the flexibility to accommodate your needs.

During your shifts, you'll have the opportunity to engage in various tasks, including housekeeping, front of house/reception duties, socializing with guests, and assisting with events. This diverse range of responsibilities will help you develop a well-rounded skill set and gain valuable experience in different areas of hostel management.

What You'll Gain:

Cultural Exchange: Interact with people from diverse backgrounds, create lifelong friendships, and expand your understanding of different cultures.
Accommodation: Comfortable dormitory-style accommodation within our hostel premises.
Facilities: Have easy and free access to all of our hostel facilities including our self-equipped kitchen, laundry area, wi-fi & Netflix, and occasional discounts events on local pubs.
Skill Development: Enhance your customer service skills, deepen your knowledge in hospitality, and gain valuable experience in a dynamic and international setting.
Discovery: Oxford, a vibrant city field with history, is yours to explore! Discover the breathtaking architecture, visit world-renowned museums, escape to nature with many parks and even take part in the buzzing student life. Don't stop only with Oxford - London, Cardiff or Brighton are only a couple of hours away. We encourage you to explore the United Kingdom during your time here! 


Join Our Team Today!
If you're ready for an incredible journey filled with personal growth, cultural exchange, and the chance to discover the wonders of Oxford, apply now. We can't wait to welcome you aboard!


HOSTEL NAME
HOSTEL LOCATION
13 Park End St, Oxford OX1 1HH, United Kingdom
Job first posted: 08 August 2016
Updated: 19 April 2017
THIS HOSTEL IS LOOKING FOR TRAVELLERS WITH THE FOLLOWING SKILLS
Event Planning / Hosting
Hostel Cleaning / Housekeeping
Hostel Marketing
Hostel Reception / Front Desk
*This Hostel is willing to provide training