Join our Surf Hostel in Pacific Beach, SD as we are looking for an amazing On-Site Supervisor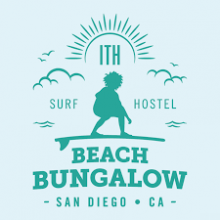 Come join one of the most thriving hostel companies in California! We're expanding again in 2023, so we have new opportunities! We pride ourselves on providing our guests more than just a safe, comfortable, and clean place to rest their heads. At ITH we like to call it the Social Orgasm. We enhance their experience by providing multiple opportunities to interact with fellow guests via Daytime Adventure Activities, Nighttime Social Activities, and Complimentary Breakfast. We like to think of our supervisors as "Ultimate Hosts". Someone who can guide our guests through the ITH experience and ensure the days run smoothly.

Be that ultimate host to an amazing international hostel community. You will work on the Management team and ensure the operation is running up to excellent standards. This is a great entry-level opportunity if you want to pursue a job in hostel management. Based in San Diego, you'll be working at one of our busiest and most energetic location right on the beach in the exciting neighborhood of Pacific Beach! Our hostels are melting pots of culture, languages, and people.

You will be providing guests with a daily authentic local experience and insight into our neighborhood so everyone who visits ITH Beach Bungalow is delighted. You'll also assist with the management and leadership of a team of up to 10 staff who are inspired to work for you and ultimately achieve the company's long-term objectives of creating the best hostel in the world.

This is a live on-site position. You are compensated with room and board in exchange for 24 hours per week. The first 24 hours per week are compensated through housing. Hours worked beyond that will be paid. Monthly and quarterly performance bonuses will be distributed based on guest ratings.

Skills Required:
Passion For Hosting Travelers
OCD Organized and Clean
Strong Communication Skills
Strong Work Ethic
Passion For Hostels
People Person

Come join us and wow us with your skills and energy! We can't wait to meet you and enjoy the Californian sun on our deck!

Cheers!
HOSTEL NAME
OPPORTUNITIES AVAILABLE
Work Trade/Exchange
Paid Hostel Staff
Hostel Manager
HOSTEL LOCATION
707 Reed Ave, San Diego, CA 92109, USA
Job first posted: 28 April 2018
Updated: 28 April 2018
THIS HOSTEL IS LOOKING FOR TRAVELLERS WITH THE FOLLOWING SKILLS
Administrative Assistance
Building Maintenance & Repairs
Cooking
Email Communications
Event Planning / Hosting
Greeting / Helping Travelers (Concierge)
Hostel Cleaning / Housekeeping
Hostel Management
Hostel Reception / Front Desk
Murals & Art
Photography
Social Media Marketing
Tour Guide
Web Blogging & Writing
*This Hostel is willing to provide training