Join us at Oxford's best Hostel this autumn - VOLUNTEERS NEEDED ASAP!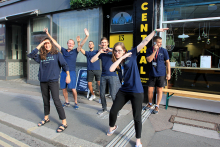 Oxford's #1 rated Backpackers Hostel is looking for live-in volunteers!
Oxford is an exciting, historic University City with a busy nightlife, museums, shopping, activities, theatres, and live music. Autumns in Oxford is amazing with punting down the canals, lots of parks, or just enjoying a warm cup of coffee in the city. Plus we are only an hour away from London.
We are looking for someone to join our team ASAP for autumn-winter 2021. The responsibilities are customer service, reservations, cash handling, event hosting, and ensuring the hostel is clean and ready for the day. The successful candidate would be working closely with the manager and team to continue providing our high customer satisfaction. We are looking for someone to join our team for a minimum commitment term.
Candidates would be working for their accommodation in the staff dorm. Included for all staff are free tea and coffee, free wi-fi, and free laundry services. We have a fully equipped kitchen, rooftop area, and tv/lounge areas.
You would be required to work 24 hours a week to cover your accommodation.
If interested please send an email to
[email protected]
Candidates should be outgoing, friendly, and ideally have been in a Backpackers environment before, also a good level of English is essential.
HOSTEL NAME
HOSTEL LOCATION
13 Park End St, Oxford OX1 1HH, United Kingdom
Job first posted: 08 August 2016
Updated: 19 April 2017
THIS HOSTEL IS LOOKING FOR TRAVELLERS WITH THE FOLLOWING SKILLS
Event Planning / Hosting
Hostel Cleaning / Housekeeping
Hostel Reception / Front Desk
*This Hostel is willing to provide training