LIFE'S a VENICE BEACH – HOSTEL JOB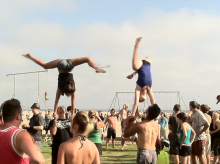 LIFE'S a VENICE BEACH – HOSTEL JOB
HOSPITALITY / RESIDENTIAL STAFF
Current positions needed - Venice Beach Hostel.
Work: then Stay and Play right on the Beach
SEASONAL WORK – spring; summer; fall
VBH has re-opened: temp. private only ; later shared opening up
We Are Looking For - Pleasant & Personable live-in " Fellow Travelers " !
Do you have:
* A history of Good & Reliable Work ?
* Good & Reliable Habits and Personality?
Then Please come and
enjoy a great work opportunity for you:
* and also enjoy & play on Venice Beach !
WORK & LIVE on VENICE BEACH !
VBH offers you a place to stay on the beach and a place to work.
hospitality & housekeeping
Please Send resume / CV to:
[email protected]
Send us when you are in L.A. by a known date; then interview
We are here: planetvenice.com
Please Remember:
PLEASE DO NOT REPLY HERE.
SEND DIRECTLY TO VENICE BEACH HOSTEL:
[email protected]
Thanks for your interest.
VENICE BEACH HOSTEL
1515 PACIFIC AVE.
VENICE, CA 90291
Direct cell: 310.895.6275
[email protected]
HOSTEL NAME
HOSTEL LOCATION
1515 Pacific Ave, Venice, CA 90291, USA
Job first posted: 14 April 2021
Updated: 14 April 2021