Live-in Assistant Manager wanted for Oxford's best rated hostel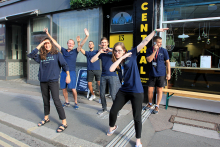 Central Backpackers Oxford have an exciting new opportunity for an Assistant Manager starting February 2022. Our friendly, social hostel is looking to strengthen its existing team with a talented and responsible individual with exceptional hospitality skills.
The Assistant Manager position is a live-in role based on a 3 days on, 3 days off shift pattern in rotation with the General Manager.
Candidates must be passionate about hospitality and travel, and will have spent time living or working in hostels around the world. You must genuinely enjoy interacting with people from all backgrounds, and thrive in the social side of hostel living.
All applicants must have the right to work in the UK.
Responsibilities include:
Organisation and management of hostel staff
Providing staff training
Creating a fun and positive vibe in the hostel for guests and staff alike
Managing and checking reservations on PMS and OTAs
General administrative tasks
Checking the cleanliness of the rooms and communal areas
Carrying out checks on payment transactions and cashing up
Daily, weekly and monthly reports
Organising and hosting events
Social media management
The ideal candidate will have:
Excellent communication skills
The ability to lead from the front and help out wherever necessary
Experience managing others and a calm head in the event of an emergency
Knowledge of first aid, fire safety and basic DIY
A meticulous attention to detail
Experience using PMS software
Must be willing to commit to a minimum of 9 months
Rewards and Benefits:
A competitive salary plus performance based bonus
Free accommodation in staff room
Full access to hostel facilities (wi-fi, laundry, etc)
Paid holidays
A fun inclusive working environment
Staff social events
If you would like to join our team, please send your cover letter and CV to
[email protected]
HOSTEL NAME
HOSTEL LOCATION
13 Park End St, Oxford OX1 1HH, United Kingdom
Job first posted: 08 August 2016
Updated: 19 April 2017
THIS HOSTEL IS LOOKING FOR TRAVELLERS WITH THE FOLLOWING SKILLS
Email Communications
Event Planning / Hosting
Greeting / Helping Travelers (Concierge)
Hostel Cleaning / Housekeeping
Hostel Management
Hostel Marketing
Hostel Reception / Front Desk
*This Hostel is willing to provide training