Live-in Hostel Manager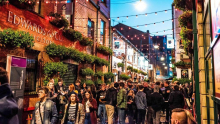 Job Description :
We are currently hiring a Live – in Manager to our family Hostel.
For the successful candidate we offer a private room and free breakfast
Essential Criteria:
-You must be reliable and be able to think for yourself and able to work on your own.
-You must be able to work under pressure.
-You must be able to work as a part of a team.
-Confident in the use of Microsoft office, booking sites & have experience of channel manager
-Experience doing cash ups and balancing financial transactions
Duties will include, but are not limited to :
-Ensuring the smooth running of accommodation facilities, including the safety and well-being of guests.
- Develop and build positive relationships with guests
-Organise Check-ins and Check outs.
-Answer emails and telephone calls in a professional manner (including guest enquiries, suppliers etc).
-Manage stock levels of cleaning and communal food items and order supplies.
-Liaise with other departments within the business.
-Arrange repairs and maintenance of the facilities.
-Inspect the accommodation to ensure that hygiene and health and safety regulations are met.
-Maintain a high level of cleanliness throughout the building.
-Front desk Duties
-Effective management and pricing of the available inventory.
-Managing and maintaining appropriate staffing levels and will be essential to smooth operations.
Experience in a hostel or accommodations industry highly desirable
Job Type: Permanent following successful probation period
Job Types: Full-time, Shift work
Job Contact Email:
[email protected]
HOSTEL NAME
OPPORTUNITIES AVAILABLE
Paid Hostel Staff
Hostel Manager
Job first posted: 27 May 2022
Updated: 27 May 2022