Live-in Housekeeper - in the heart of the Scottish Highlands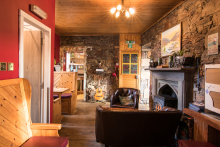 As a Live-in Housekeeper at Bazpackers Hostel, you will ensure a high standard of cleanliness throughout the hostel.
We will guarantee you 12 hours/ week as a minimum with the possibility to work up to 20 hours.
Starting date: March 2023
Salary: £10.90/ hour
Responsibilities and duties (without being limited to):
• Stripping and making beds
• Vacuuming, dusting, mopping
• Cleaning/deep cleaning rooms, bathrooms, kitchens, living room, and hallways
• Mopping, sorting trash, and recycling
• Replenishing tea, coffee, sugar, soap, toilet rolls, etc…
• Reporting any missing or damaged items
• Ensuring the highest possible standards of cleanliness are met
The suitable candidate will have:
• Eye for detail
• Adaptability and flexibility
• Ability to work unsupervised
Please note that :
-You will need to have the right to work in the UK.
-The role involves physical activities such as bed making on upper and lower bunk beds, including stripping and turning beds on a daily basis as well as lifting laundry baskets and climbing stairs. It also requires some flexibility and you must be willing to work weekends and holidays, as required by schedule.
If interested, please send your CV to
[email protected]
HOSTEL NAME
HOSTEL LOCATION
Bazpackers Hostel, 4 Culduthel Rd, Inverness IV2 4AB, UK
Job first posted: 21 July 2019
Updated: 21 July 2019
THIS HOSTEL IS LOOKING FOR TRAVELLERS WITH THE FOLLOWING SKILLS
Hostel Cleaning / Housekeeping